7 Simple Steps to the Change You Want!
From the Desk of: Susan Scott
Subject: The Key to an Extraordinary Life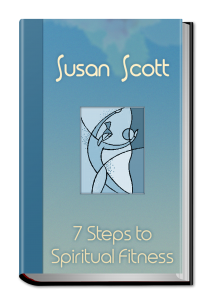 What would your life be like if you knew you were living out God's will and plan every day? I know what life is like when you are not in His will. Days are frustrating, everything you do seems meaningless, you are in a rut !
Every day is the same old thing:
The same arguments
The same routine
The same money problems
The same joyless, tired existence
Where is the joy, the enthusiasm, the confidence, the fruitful, meaningful life, that every Christian is supposed to enjoy?
Are you ready to break the barriers that are holding you back?

While studying Colossians 1 verses 9-12 I realized I had found a secret formula for spiritual growth and change in our life. 7 simple steps, that when followed regularly, brings your thoughts and your will into harmony with what God wants to do in your life. 7 Steps to Spiritual Fitness is spiritual growth made easy.
Digging deeper into those scriptures, there are 7 habits or principles for living, thus the 7 Steps to Spiritual Fitness was born:
1. Be filled with the knowledge of His will in all wisdom and spiritual understanding
2. Walk worthy of the Lord
3. Be fruitful in every good work
4. Increase in the knowledge of God
5. Be strengthened with His might
6. Give thanks to the Father
7. Be partakers of the inheritance
In this compelling eCourse you will learn powerful daily actions that will open your eyes to the work of God in your life.
You'll get experienced direction for igniting God's plan
and becoming the person you were created to be!
No complicated word studies
No need to spend hours each day
Is this just your average, common sense self-help book?
7 Steps to Spiritual Fitness is a whole lot more! More than just theory or good ideas, the companion Life Application guides give you strategies and guidance for applying the information and start making the changes you want in your life
Are you afraid you'll get started on the path to change and then quit?
Weekly email follow up will help keep you motivated and on track! Everyone who signs up to receive the life application guides will be eligible for free coaching by email from the author
Have other self-help guides left you feeling depressed and defeated by pointing out the areas in life where you've not succeeded?
7 Steps to Spiritual Fitness is about HOPE. Hope that your life matters to God. Hope that He is listening and waiting to hear from you. Hope that your life can change for the better
What is spiritual fitness? It is keeping our spirit in shape and in connection with the Spirit of the Lord so we can live an effective Christian life, living out His will, His plan, and His purpose in our lives.
Spiritual fitness is really the cornerstone to keeping every other aspect of our body, mind and soul in optimal health:
Want to lose weight?

Learn to grow stronger in your spirit so your spirit, not your fleshly desires, rule your eating habits.
Do you want to be free from thoughts of anxiety, worry, fear and panic

?

Train your spirit to remain focused on the things of the Lord so your brain can be cleansed of those negative thoughts.
Are there relationships in your life that need healing

?

Practice bearing good fruit and loving others as Jesus loved us and you will see miraculous changes in how people respond to you.
Over the course of the next two months you will learn:
To overcome your bad habits and exchange them for habits of a healthy mind, body and spirit
To hear His voice and uncover His will for every day
Identify Your unique ministry
A real solution for stress and anxiety
Focus your thoughts on what is good and then GET what you focus on!
This is not just a buy-it-and-forget-it eBook! Each week you will receive, via email, access to a new Life Application Guide to help you put what you've read in the book into action in your daily life
You will receive: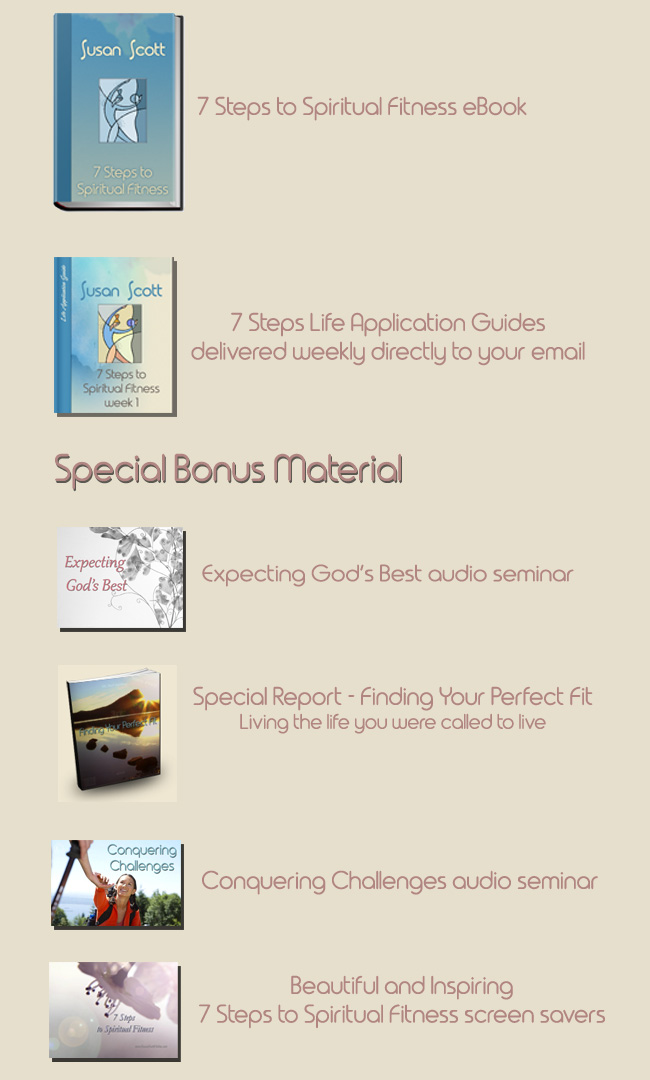 Our lives are meant to be a reflection of God's character here on earth and He is working in us to make us more like Him. He has plans and help for every area of our life so those areas will line up with His will and plans. If we are trying to make changes that are outside His will, we struggle and fail. Changes that are meaningful, fruitful and long lasting are those that work to bring us into line with God's plan
For a limited time only, this full eCourse is only $19.97!