Below you will find links to all of my favorite resources to teach any subject to any child.

Click here for immediate access to a mini ebook full of quick ideas to spice up math lessons and inspire reluctant learners.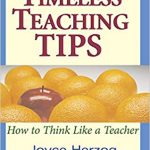 This book, by Joyce Herzog is overflowing with both practical teaching ideas and principles for thinking like a teacher.

Understand your child's personality and you'll know what motivates them as well as how they learn. Find some free, simple ideas here