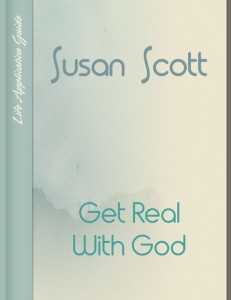 We want to be godly Christians, we long to experience the new life, the new hope we've heard others talk about.  We want to be free from emotional ups and downs, we want to have victory over temptations, we truly desire more patience and less anxiety. All those things are by-products of a life journey that is spent in fellowship with Jesus.
But, if we are not ordained ministers, if we struggle with understanding the Bible, if our life is pulled in a hundred different directions, how do we get on that path with Jesus?
Getting real with God means:
Knowing the truth of who He is and being our true selves with Him.
Turning to Him in all of our situations, lousy attitudes, overwhelm, chaos, mistakes and sins and asking Him for help.
His will and His word take on relevance in our daily life.
How can we make God part of our daily life?  This book will help you to know Him for who He really is and to know yourself, the strengths and gifts He created within you,  to make you the person He wants you to be. Learn how to come before God, just as you are!
This is a free Life Application Guide, no cost, no need to give up your email address: click here for immediate download: Get Real With God