Discover the secret to enjoying a more confident and relaxed life.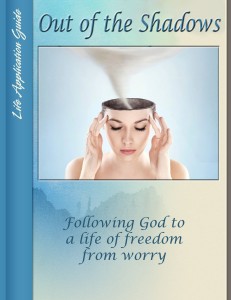 From piled up bills to your hectic schedule,
life can leave you feeling overwhelmed and chained to endless worry.
Out of the Shadows will help you find the peace and promises of God to calm your frantic mind.
Enter your name and email for free access to the digital book immediately
In this quick and easy to read ebook you will learn:
The secrets to experiencing a tranquil trust in God
The little known fear at the root of worry
How to get rid of your "worrier" label once and for all
Warning: As God changes you, things change! Preparing and planning for a new life.

;

Enter your name and email in the box below today to receive instant access to the digital book and over the next three weeks you will also receive:

An audio message recorded just for you: Where is God in the midst of suffering?
Extra report: What the self-help gurus don't tell you. Why self help isn't helping.
Personal Assessment: A individual plan for pulling out the roots of worry in your own life

Please send me my free copy of Out of the Shadows!