Heroes Needed –
Help Haiti and Help Yourself to an Abundance of Free Goodies!
LifeWorks Ministry is dedicated to helping all people become the best they can be. In undeveloped countries, that mission begins with meeting basic needs for food, clothing, shelter and education. In partnership with MarkItUp.org, Life Works ministry is reaching out to under-funded schools in third world countries to help with building projects and provide them with basic supplies.
Our current project is a school  located  in the very heart of the earthquake zone in Haiti – The TLC Barefoot School.  The school was started in the mid 1990's, by Haitian missionaries Tom and Linda Counts, as a way to minister to the many barefoot children they saw running in the streets of Port Au Prince each day. The full story can be found on their website at www.tlcbarefootschool.com
Keep reading to learn how you can help us support this remarkable school and get over $300 of inspirational ebooks and audios for yourself!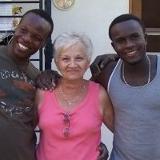 The school's current director is Dottie Diehl, a tireless and dedicated worker who has given  her life to helping these poorest-of-the-poor, children. She has been in contact with the school's supporters in America since the earthquake detailing some of the work she and the rest of the school staff are doing to help and sharing what conditions are like for the Haitian people:
Friday, January 15, 4 days after the quake
"We are feeding as many as possible here at the school. Started that yesterday, just rice and water. Mr. Nickson (the school principal) is handling that for me, and I have been in our makeshift hospital at Monasaro's for 3 days. Many Haitian doctors and nurses coming to volunteer. Orthopedic surgeon helping with the lost arms, legs etc. So many broken bones can't count, can't set, no plaster, hopefully supplies will come today. Most hospitals crashed or no power. Love A Child is trying to get some doctors in from he DR and we can send critical patients there. I have done things I never thought possible, stitching, cleaning, cutting away dead skin. Some are still being dug out and the dead bodies are being gathered in trucks and carried somewhere, God help us….I don't know where. "
Monday January 18
"We were able to buy, gas, diesel, propane and filtered water (not culligan). Some vegetables are now being sold too, sad to say the worse news is that the prices have increased tremendously…….a 55 lb. bag of rice that used to be around $25.US is now $42.00. This is extremely difficult to deal with….We had a late start yesterday in getting food prepared, had to purchase some items on the street. So we unfortunately fed only about 200.
What do you hear there as to the aftershocks? We just had another, just now!!!! This is what is keeping so many absolutely terrified and driving them out of the city."
Tuesday, January 19
"Hi all,
Another wonderful day here in Haiti, we can always see God in our trails and tribulations if we really look………many, many of the 5th, 6th and a couple 7th grade children helped with the serving, gathering plates, serving water, washing dishes and sweeping the floor as we fed over 420 adults and children today. What a PRAISE THE LORD!!!!! The best part, they stayed all day to help, not just do a little and leave, it really brought tears to my eyes, they even laughed with me and had some fun. I guess it was funny to watch Miss Dottie wash dishes.
We have accounted for a few more children today, the count is now down to 19 (still missing of the total school population), another praise God. Mr. Nickson did not fair as well today out on the street as we did yesterday. He waited in a gas line for far too long only to be halted when he got close, sad part……….closed due to fighting, not empty, just too many hostiles.
Again we see nothing of the food and water that is supposed to be coming into all areas. Many are still not being reached at all, even for medical aid."
Thursday, January 28
"Hi to all,
Pretty late here at the Guesthouse, it seems every night is later and later. Whether it be generator problems or waiting for someone to get "home." As many of you know the Guesthouse becomes a second home to many here as they struggle with the streets, the long waiting in lines, the heat and the daily struggles of Haiti, it is comforting for so many to know they can come "home," to food, something cold to drink, peace and comfort. This is what the Lord has said to provide. It took all morning to find some meat to provide for today. Yes, all, morning. Eagle market is safe only for canned products or maybe paper products. I purchased 2 dozen eggs there and 8 were rotten. The meat does not look good, never did before earthquake either, and the store has a very bad odor. They did however exchange money for us, at 7.5% today. So in search of safe food, I went to Petionville. Did find Star Market, not bad, small, but fairly clean, praise God they even had Culligan water in the 5 gallon jugs, a real answer to prayer. Found chicken, looked fresh, smelled fresh, but could only get 6 pkgs. leg and thigh. Not alot for 9 hungry men and 2 ladies. Anyway, as we tried to return home all the streets going our way were blocked. We turned around 3 different times, finally had to wait over an hour for traffic to move. But praise God they had the US Army actually trying to get the rocks and rubble out of the main street going up to Petionville. We need to begin to pray for retaining walls to be built, as the hillsides are crumbling and when the rainy season begins you can just imagine what will happen."
Friday, Feb. 5
"Thanks to Brother Chuck with Truth Ministries we have been blessed with rice, beans, oil, tomato paste, and he picked up our 50 cases of FMSC rice packets from Love A Child. I had spoke with Sherry at Love A Child and told them how many we are feeding and ask for another 25, she said no problem and Chuck handled the transporting. We are continuing our feeding on Saturdays for the community, and hope to be able to pass these rice packets out in some of the smaller tent communities. Sad to say we have received nothing from any aid organization, not even the 82nd Airborne.
I continue to have doctors, surgeons, nuerosurgeons, PA's, nurses and engineers in the Guesthouse. They come and go, some stay only 3 days while some are staying 3 weeks. The purchasing of food is still a hassle, in that it is so far away, I guess I just got spoiled with the convenience of Caribbean Mkt.
Quite honestly, things seem to be coming back to normal here where we are located. However, Haiti has over 200,000 people living in tents everywhere, that's not normal. Billions of $$$$$ coming into the country and we are not even seeing it anywhere."
How to Help
LifeWorks Ministries has been supporting the TLC Barefoot school for several years now. In the wake of this recent crisis, we have joined with MarkItUp.org to bolster our fundraising efforts and get money into the hands of the people already on the ground in Haiti and already geared up to lend immediate help. Donations to the TLC School do not go to support a massive fundraising organization or excessive administrative costs. Every dollar goes directly to the school for the benefit of children like Melissa: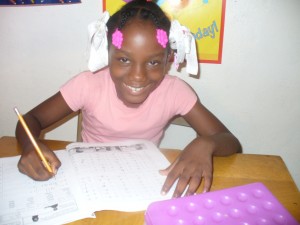 Melissa is just one of the 92 children who receive a full education, training in the English language, two meals a day, clothing, shoes, and birthday and Christmas gifts through the generosity of TLC Barefoot School supporters.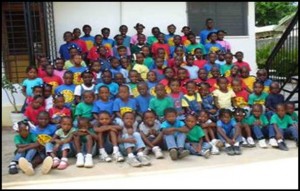 Thanks to the overwhelming support of almost a dozen authors and speakers, we've been able to put together a wonderful gift of ebooks, special reports and audio downloads as a thank you for donating to the TLC Barefoot School. This incredible package of inspirational blessings is not available anywhere else at any price. It is our special gift to those who join us in providing much needed funds the the school.
Here are just a few of the amazing products to be discovered in this unique package of downloads:
* Motherhood:  A Legacy, audio seminar. Join Cindy Rushton as she encourages listeners to embrace the ministry of motherhood.
* 7 Keys to Biblical Success – a refreshing look at instructions for life found in the book of Joshua by wellness coach Ginny Edwards
* Not one, but TWO uplifting and practical ebooks on raising godly children, from Karisa Rivera
* The secrets to eating healthy even when those around you don't, are shared by Sara Blumenfeld
* Author Kathryn Lang brings us on a journey toward a life of encouraging and uplifting others in her ebook, Growing Encouragement.
And there's more, over $300 worth of products available for immediate download!  To see the full list of products, Click Here
Click here to go to our special page at MarkItUp.org. Once the donation process is complete, you will be brought to the download page. Or you can go directly to the donation page by clicking here: