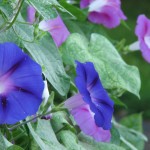 Fairly regularly I've heard people preach on doing even mundane tasks to the glory of God. They quote from 1 Corinthians 10:31 "So whether you eat or drink or whatever you do, do it all for the glory of God." It has always left me with the impression there must be some way to work ourselves into such a state of holiness that we will feel like we are working for God himself when doing even the most menial of jobs.
In the more cynical side of my brain, I'm tempted to think that sort of teaching is just to make people feel better when they aren't really doing anything "important" for the kingdom of God. As a way, maybe, to pacify the spiritually hungry mom who feels stuck at home, living only to change diapers, run laundry and pick up after the family for the 948th day in a row. You know, sort of like a condescending pat on the head that says: "there, there. This won't last forever. Just be patient and someday you'll be able to do the real work God has called you to." I know, I know, it's not a very spiritual attitude; I'm just being honest with you here.
Yesterday when I went into our kitchen and faced counter tops covered in crumbs and dirty dishes for the 948th day in a row, I wasn't feeling very spiritual. I said to God, with something less than holy reverence: "okay God, if I'm going to do even this thankless, meaningless job yet again, and do it to your glory, you're going to have to teach me how." And the funny thing is, He did, but not in the way I expected.
I put some worship music on the CD player and picked up the cold, soggy dishcloth to start wiping up the spilled milk. Suddenly, God was there. I could feel His peace and, considering the circumstances, what I would call unreasonable joy.  I knew God was with me. I didn't do anything to attract him or draw Him to me. He chose to show up despite me and my lousy attitude. I was looking for God to show me how to work myself up into an attitude of holiness so I could wash the dishes to His glory. Do you see the mindset here? I was looking… for Him to teach ME… how to work MYSELF… so I…
My thoughts were all about ME.  Instead He taught me that He is holiness. He brings it, along with peace, mercy, grace, forgiveness, love, joy, and more with Him when we invite Him into our lives.
Again, as has been a theme throughout this whole year, I continue to learn in so many ways that it is not about me. It is always about Him.
It's time to get real with God and let Him be part of every day life
Getting real with God means:
Knowing the truth of who He is and being our true selves with Him.
Turning to Him in all of our situations, lousy attitudes, overwhelm, chaos, mistakes and sins and asking Him for help.
His will and His word take on relevance in our daily life.
Click here and download a free Life Application Guide on Getting Real with God